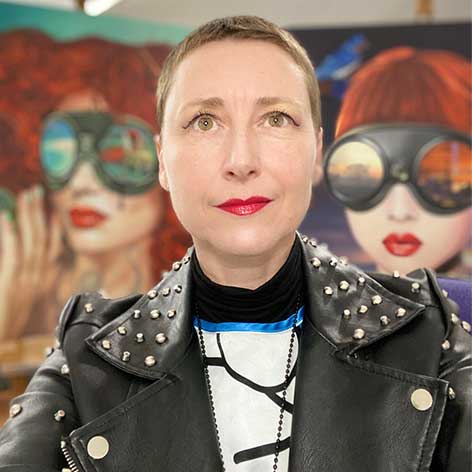 Bio
Anna-Marie Buss – Artist
Anna-Marie is a modern-day Pre-Raphaelite artist. Her principal theme is nature, using subjects from literature and poetry and ideas around sex and death.
She has an intuitive use of colour which she combines with an unusual juxtaposition of ideas and images that are 'real' in an otherwise unreal world.
Whilst studying Art and Art History at college, Anna-Marie was drawn to the Surrealist movement and Pre-Raphaelites. She was emotionally drawn to and transfixed by the dreamlike form and the archetypal content of their paintings, along with the high-realism and symbolism used to conceal a tale. Her late father was an amateur artist and had a love of nature and the environment which gave her a strong connection at a young age. Anna-Marie finds her inspiration through reading and exploring new places.
In 2000 Anna-Marie started her own successful, award winning, creative design agency Bussroot, creating design campaigns for a wide range of corporations in her unique style. This led to winning design awards both for the company and her clients.
After a serious car accident and major wake-up-call, she took-up evening classes to polish-up her artistic side, which until that point, had been put on hold. Within a matter of months, she had her first exhibition, was an integral part of a new cooperative gallery, and took over running a regular creative networking group.  
Like Frida Kahlo, many of her paintings use images of herself. Unlike Frida who said "I am so often alone and I am the subject I know best". Anna-Marie's reason is "because I am available immediately, I have a fabulous wardrobe of dressing up clothes and props, and I'm free".
Anna-Marie works on new projects from the sanctuary of her art studio in the Kent countryside. Her works have been sold to private collections nationally and internationally. She exhibits in local galleries and exhibitions and works on bespoke commissions for private clients.
| | | |
| --- | --- | --- |
| Present | Beumée Gallery, Tunbridge Wells | gallery |
| Yearly | The Anonymous heART Project | auction |
| Mar – Apr 23 | Royal Victoria Place, Tunbridge Wells | solo |
| Jan – Feb 23 | Royal Victoria Place, Tunbridge Wells | solo |
| Nov 22 | Royal Victoria Place, Tunbridge Wells | solo |
| Nov 21 | G&C Gallery, Tunbridge Wells | group |
| Nov 19 | The November Art Show, Battle | art fair |
| Sept 19 | Art in the Garden, Marden | art fair |
| May 19 | G&C Gallery, Tunbridge Wells | gallery |
| Dec 19 | Vittle & Swig, Tunbridge Wells | group |
| Dec 18 | The December Art Show, Battle | art fair |